I Wish I Found Renoise Sooner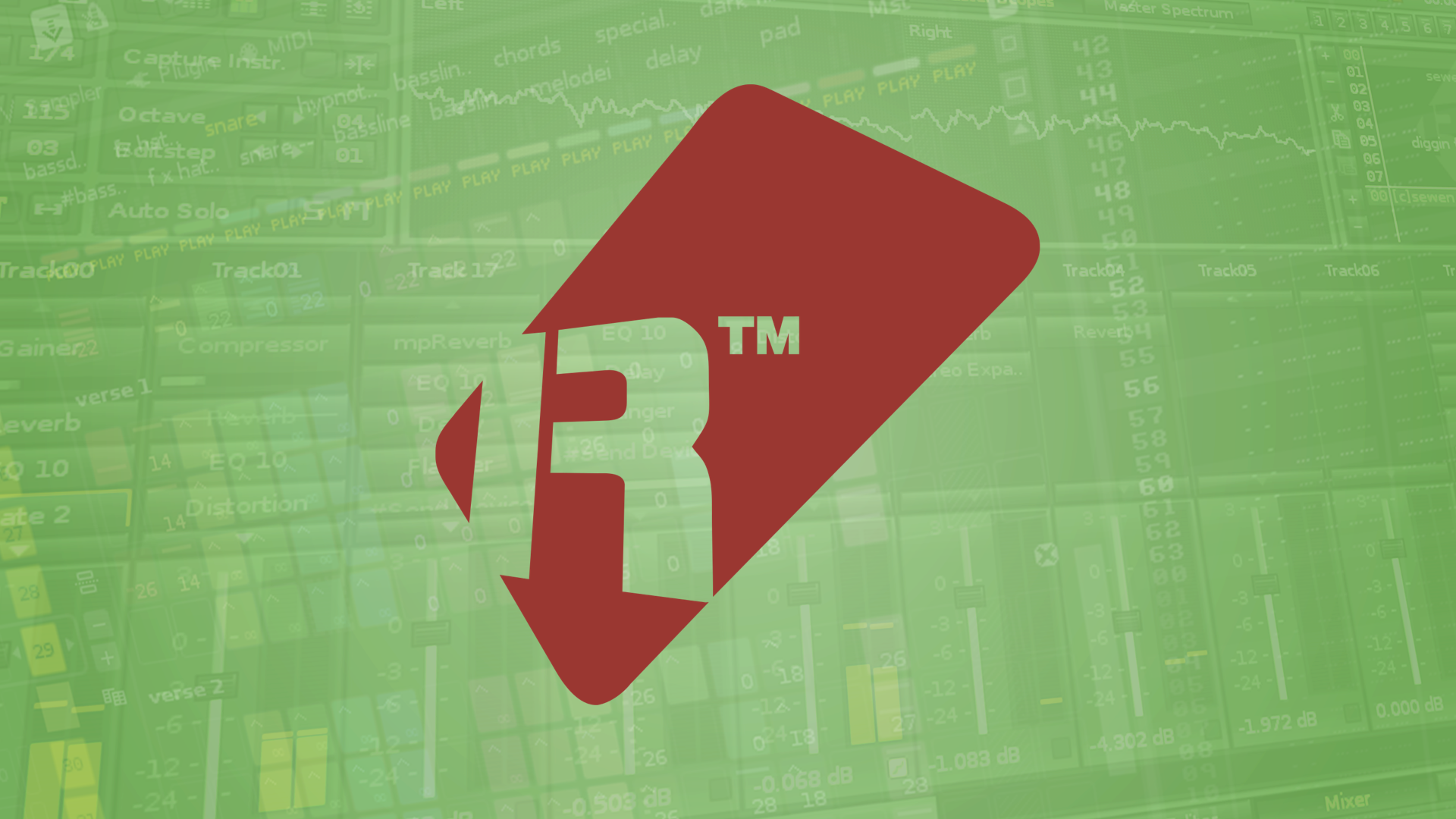 So, other than code, I also like to write music. I had a lot of instruments before I sold them to move to New York. I've always kept my audio equipment with me, and I still pick up all sorts of music tech when I can. I had a lot of music software, too. Cakewalk's Music Creator, MAGIX's Music Maker, Acoustica's Mixcraft, Image-Line's FL Studio, all that stuff.
I had problems with all of them. They all had two things in common; they all worked only on Windows (which is a recent problem) and they all were difficult when it came to understanding the UI workflow. I ended up sticking with Mixcraft for a long while, but that presented its own issues as well. Since I didn't know a lot about sound engineering and audio mastering, the UI made it especially hard for me to get into the sound design aspect of music production. It wasn't until much later when I studied up on making sure audio is balanced, clear, and presentable, that I found I had so much more of the UI to study on.
This problem would only present itself when it came to recording music with real instruments. When it came to chiptunes, I hardly touched an actual desktop. I would emulate LSDJ on my DS Lite and record the line-out of the audio to Audacity. And when I made chiptunes, it was a whole different system that at first, seemed very confusing, but after a little bit of messing around, became second nature to me.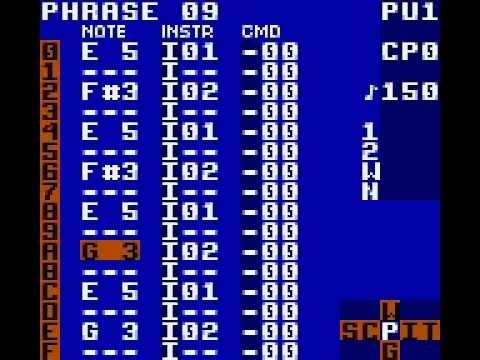 The difference between LSDJ and these other DAWs I've mentioned so far is not just that LSDJ runs on real Game Boy hardware. It's that LSDJ is a tracker. Usually, your music software will have an interface that scrolls from left to right, where the timeline is horizontal and you place your samples and MIDI patterns along that line. Trackers scroll from top to bottom, where the timeline is vertical. Everything is marked as a note, sample or not, and playing a sample at a different key will pitch the sample. Since the Game Boy has such a tiny resolution, fitting a lot of information all at once would be impossible. Designing a tracker interface helps with that, allowing information to be stored elsewhere while the main, crucial data--the notes and what pitch they are--are still clearly visible.
But the biggest thing I admire out of LSDJ is that it got me into experimenting much more closely with whatever was being played at a waveform level. I wanted to tweak the waveform the note was playing. I wanted to start messing with different effects. I ended up creating some crazy sounds out of Game Boy speakers.
So then I started thinking, "Y'know, what if I just made like, actual EDM, too?" Well, after years of struggling and hundreds of long-lost dollars to find any music software that made this possible for me, I didn't. I didn't make breakcore, and I didn't find that software, I didn't do either of those things.
Then I found Renoise.
Renoise is "free". It has a demo version. So far, the only drawback I can find is that you can't render songs. The full version which lets you do this costs $75. That sounds like a lot for a simple feature when you can just record the screen, but that's actually very cheap in music terms. DAWs can cost up to hundreds of dollars, Instruments can cost up to thousands, equipment can cost up to ten thousands, and places that are suitable for audio engineering can cost up to the hundred thousands. Under a Ben for this software is a really good deal. Because Renoise is a tracker.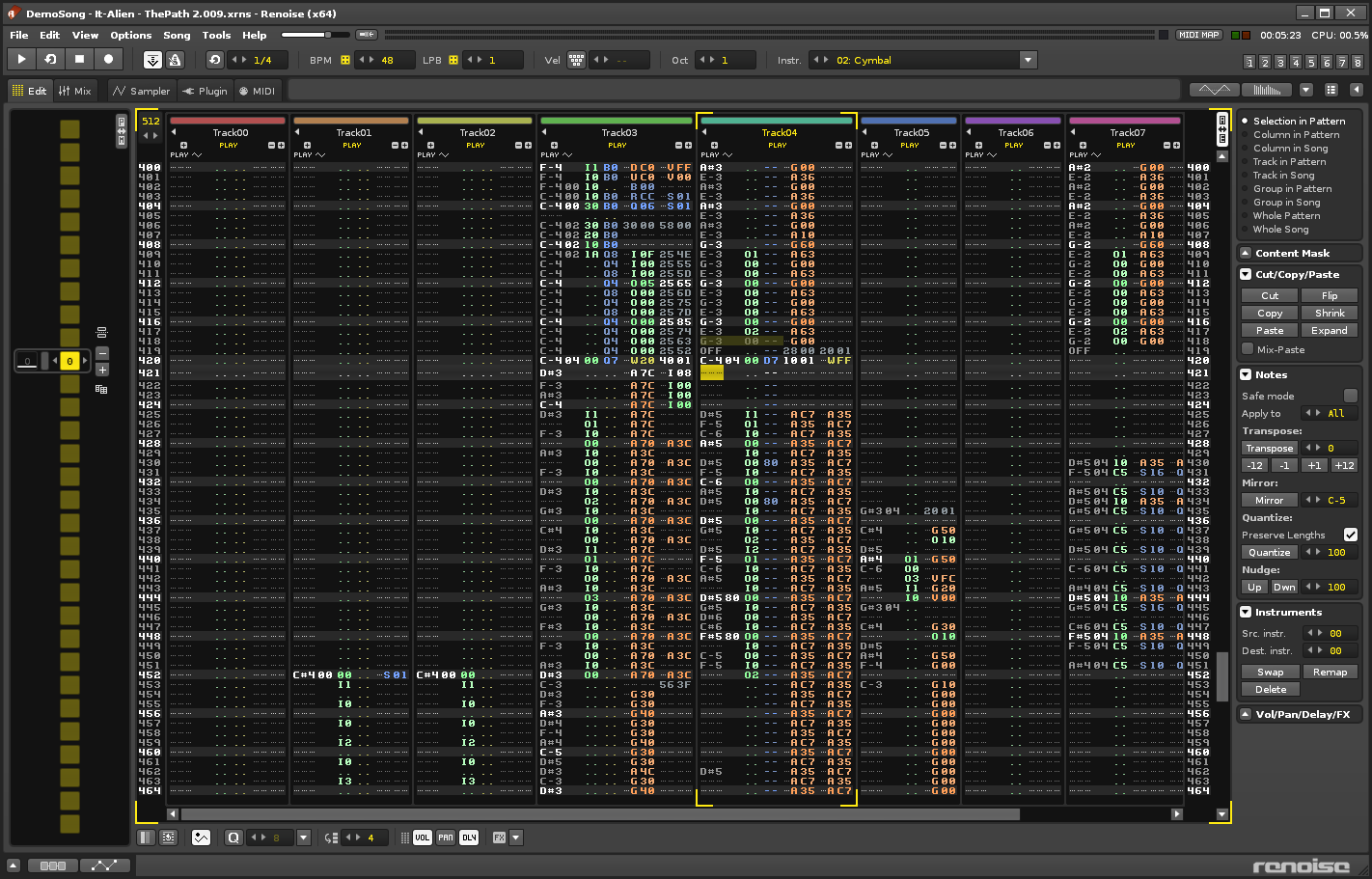 Now, if trackers are not your thing, that's totally valid. FL Studio is amazing software, I just have a very hard time learning it. Lots of people find it very easy, and that's awesome. But this software is exactly what I need. Because since I can learn the UI so easily, I can understand what within the UI I need to do to get the sound I want.
And within, I dunno, three days, maybe? I certainly got the sound I want.
That little doofer down there is Bass-kun. He purrs, he growls, he barks, he screams. I spent three days making this, and that sounds like a lot of time, but keep in mind, I've been out of practice for years. Three days for this after three years of nothing, I'm pretty happy with it.
It has an API for coding your own MIDI controls, and it uses Lua. Lua is one of the stupidly easiest languages to pick up, and it makes coding controls for my MIDI devices a snap. My dream of a controller-based music workflow is almost complete.
All in all, I just wanted to gush about my new favorite DAW. Trackers are very number-heavy and deal with hexadecimals so I can understand why it's not everyone's cup of tea. But being able to have this tracker interface applied to a desktop setting is something I've been wanting for a long time. I've tried other trackers before, but I think at the time I wasn't too into sample-level design and it didn't catch on. This one looks snazzy as hell, though, check it out. Just beautiful.
Anyway, check my tweets sometime, I'm making a game and stuff. You can learn about it on my Twitter yaya? Bye, friends, drink your water.